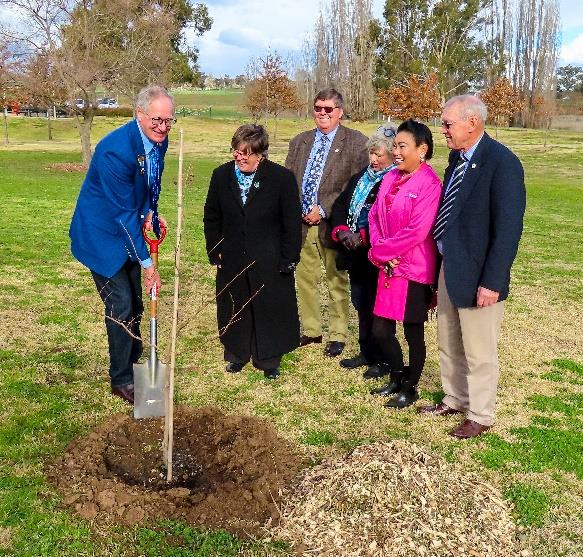 JOHN MCKENZIE
Rotary Club of Orange North
Ph 0402018318 johnmckenzie9700@gmail.com
John joined the Rotary Club of Orange North in 2004 and was President in 2009- 10. He enjoys the fellowship and service opportunities that the club provides. John has a background as an academic in adult learning in Agriculture. Following various management positions in NSW Department of Primary Industry, John set up his own consulting company which operated successfully from 2000 until retirement in 2014. As a consultant, John managed programs for Research and Development Corporations in Agriculture on capacity building for rural industries. In these roles, John was heavily involved in developing programs and projects that improve the capacity of people in the food and agriculture sector to manage change. In addition, John has led overseas development projects in the Philippines and Sri Lanka.
John is married to Fayah with two children and lives at Forest Reefs south of Orange. John's other interests include scuba diving, cycling, bush walking and flying and he is Chief Flying Instructor and Instructor Trainer for Orange Flight Training. Positions held within the Rotary Club of Orange North and District 9700 include:
2006-07 – Vocational Service Director Orange North (ON)
07-08 – Secretary ON 08-09 – Administration Director/President Elect ON
09-10 – President ON 10-11 to 12-13 – Assistant Governor group 2
10-11 – District Conference Program Coordinator 2011 – member of a small team installing a water supply scheme to a village in PNG.
2011 – GSE team leader to Scotland District 1010 2012 – Awarded PHF by Orange North
11-12 – District Assembly facilitator when District Trainer unavailable
12-13 – Secretary ON 14-15 – Foundation Director ON
15-16 – Secretary ON
13-14 to 16-17 District Grants Committee Chair
10-11 to 16-17 – Food Plant Solutions District Coordinator
10-11 to 16-17 – D 9700 Club Visioning Coordinator
13-14 to present – District IT committee member
16-17 – District Secretary