At our meeting held 25th June 2019 it was decided to adopt a new meeting concept where the meeting is emailed in PDF format one week before our ZOOM meeting. This will assist those who have slow internet connections and allow them to view video and powerpoint presentations at their own leisure.
We intend for members and those wanting to makeup that they follow the meeting including videos so that at our ZOOM meeting we can discuss any points or questions arising from the presentations. You can view our meeting concept at:
https://rotaryeclubservinghumanity.org.au/wp-content/uploads/2019/06/1-June-25th.pdf
As a trial at this meeting we used a very powerful speech made to the by Rebecca Fry who discussed Public Image and Rotary Core values at the Rotary International Assembly in San Diego (January2019) in front of an audience of over 1500 people.
Rebecca is a member of the Rotary E-Club of Silicon Valley but resides in Sydney, Australia. She is Government Affairs and Community Specialist at Johnson & Johnson, Sydney, Australia and is currently Social Media Manager for Rotary International. In additions she is Past Chair & currently Head of Public Relations with Rotaract Australia.
Please view her presentation by clicking on the link below: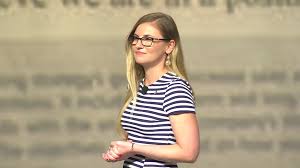 We would appreciate any comments about our new meeting concept.