Hi All,
Thanks to all who attended last week's meeting. It was well attended and it was great to have Rotarian Steve Marlor from the Rotary Club of Drummoyne in Sydney, NSW  join us for the meeting.
Our next meeting will be a social meeting on Wednesday 20th December at 7.00pm Eastern Daylight Saving Time. Also we will induct a new member – Monica Vaughan.
If you are not a member and wish to attend please notify – johnroberson@bigpond.com 
You may not be aware but I am a member of the Rotarian Action Group Against Slavery (RAGAS). All Rotarians are welcome to join. This is topical because the Australian Government is soon to introduce new legislation to target modern slavery in Australia. The article below explains some of our goals.
Education breaks the cycle of modern slavery
By Nikki Kallio
The Rotarian Action Group Against Slavery (RAGAS) has a strategy for fighting this horrible problem, working at the local level. 
"It's this Rotarian attitude – you give them a problem and instead of throwing their hands up in dismay, they start chipping away at it piece by piece," says Carol Hart Metzker, a member of the action group. "Maybe slavery won't be solved in my lifetime, but in two more years, we're going to have a whole hamlet free."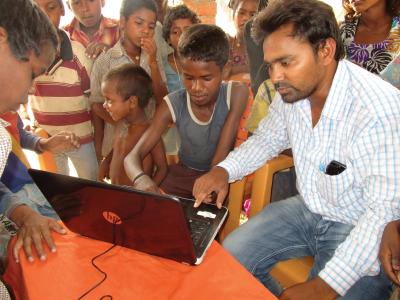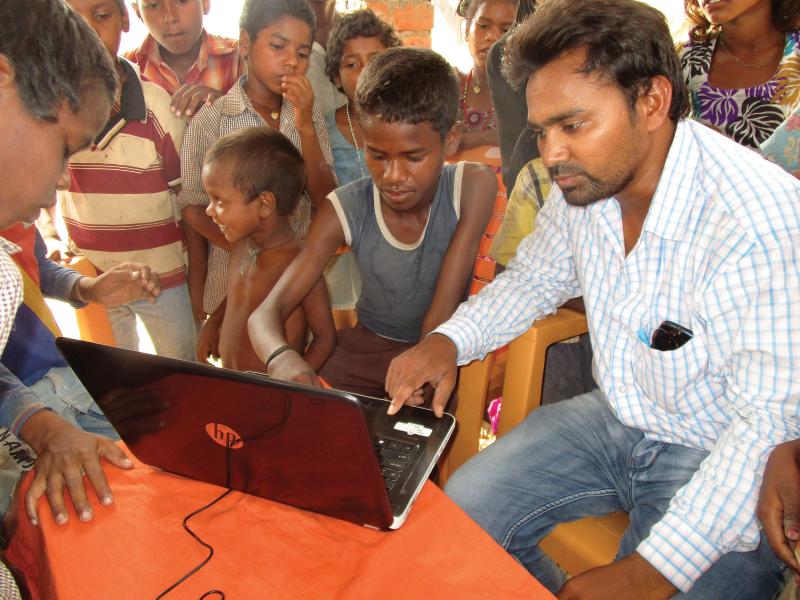 In a village in northeastern India, the action group is tackling the problem of debt bondage. With the help of 13 clubs, a district grant through the Rotary Club of Binghamton, New York, USA, and other sources, the action group is providing $36,000 toward the work of Schools4Freedom, a project of the organization Voices4Freedom. Schools4Freedom works with local partner organization Manav Sansadhan Evam Mahila Vikas Sansthan (MSEMVS) to battle debt bondage. 
The RAGAS project will support the efforts in one of those villages for three years. The name of the village, which is in the Uttar Pradesh state, is kept secret to protect the villagers and aid workers.
Poverty, illiteracy, innumeracy, and natural disasters that destroy crops or homes can leave villagers vulnerable to debt bondage in rural villages. 
"When people don't have enough to eat, and they barely have the ability to keep a roof over their head and their family quite literally alive, they will often turn to whatever means are possible for survival," Metzker says. 
Families may seek an arrangement with a business owner, who asks them to sign a contract that they can't read and therefore can't understand, and they inadvertently trade their freedom for survival, she says.
"The slaveholder creates a scheme such that the interest is more than the family ever makes, so no money really changes hands, and the family gets further and further into debt," Metzker says. "That contract is never paid off."
The slaveholder creates a scheme such that the interest is more than the family ever makes, so no money really changes hands, and the family gets further and further into debt. That contract is never paid off.

Carol Hart Metzker
Rotarian Action Group Against Slavery
Of the village's 400 residents, 132 are living in debt bondage, enslaved in the slaveholder's brick kilns, farm, or construction projects, she says. "The others are at risk because they, too, are in abject poverty."
Hundreds of thousands of people in Uttar Pradesh and the neighboring state of Bihar are working in forced labor in industries including agriculture, domestic servitude, commercial sex, stone quarries, or brick kilns, says Bhanuja Sharan Lal, director of MSEMVS. 
The problem is exacerbated by inaction on anti-slavery laws, caste discrimination, discrimination and violence against women, lack of effective protection for children, lack of training of front-line officials, and corruption, Lal says.
"Businesses and landlords, mostly in the informal sector, face no effective sanctions for holding and using people in forced labor," he says. "The status quo survives because in many industries the business model relies on debt bondage as a means to control workers." 
The Schools4Freedom project establishes a school, including funding for two teachers. Children receive school supplies and three years of hot lunches. The village gets a computer to document the project. A solar light is installed in the village to help protect children from snakebites and help prevent sexual assault against women. Women are trained in a trade.
"What's so amazing about Schools4Freedom is that one removes all of these vulnerabilities," Metzker says. "You strengthen the people and then you teach them that they have basic rights so that they can go and, in a sense, demand that freedom themselves." 
Funds also pay for a simple school structure of brick pillars with a corrugated tin roof. It keeps the extreme heat and rain at bay, "but it's not such an amazing building that someone can take it over," she says. "It's not so valuable that a slaveholder would burn it down to stop the process."
Most important, the project pays for two front-line workers who are local and highly specialized in educating the villagers. The workers teach them that they have basic human rights such as freedom and access to government services – and all of this is done quietly at first, Metzker says.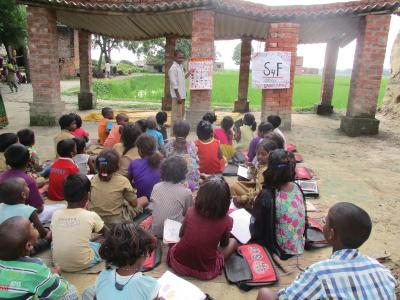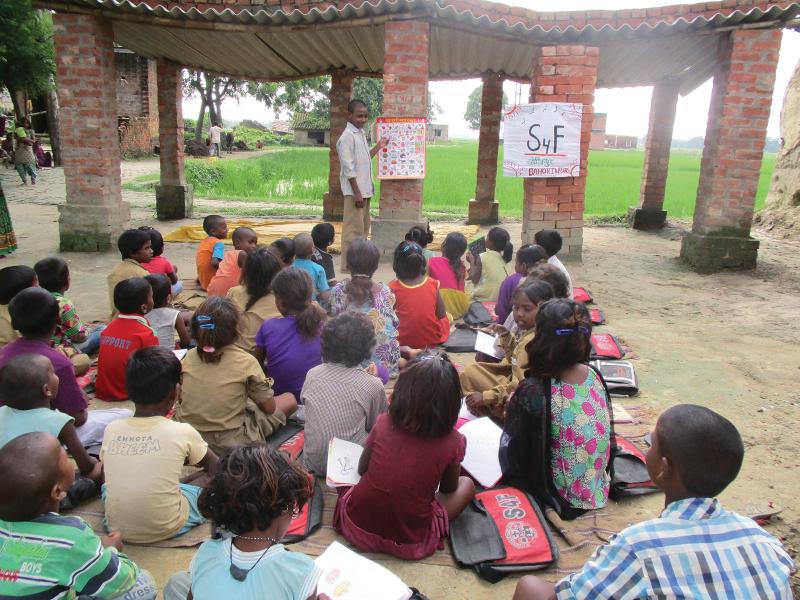 "You have to know how to do it, when to do it, the safe way to do it so that the front-line workers themselves and the villagers don't take the brunt of a slaveholder's anger," she says. "We can't, as Rotarians, do that job."
The school structure is usually the first sign to the slaveholders that something may be happening, and they may ridicule the children for getting an education, trying to convince them that it's pointless.
"Does the slaveholder think about where that's going in two or three years? The writing is on the wall," Metzker says.
Sometimes slaveholders, not wanting to lose the labor, will create employment arrangements with the villagers. Other times, slaveholders become violent and the situation requires legal action, she says.
The three-year process ensures time for the entire village to see that it is in a position of strength. 
Additionally, liberated villages are connected to a network of other freed villages, to continue supporting one another, says Peggy Callahan, co-founder of Voices4Freedom.
The problem of debt bondage is insidious because it can entrap multiple generations. But with the project efforts, "not only will these people be free and educated and able to build a life of dignity, but their children and grandchildren and great-grandchildren will be born in freedom," Callahan says.
Metzker, who is a member of the Rotary E-Club of One World D5240, became involved in anti-slavery efforts after a National Immunization Day trip to India in 2004, during which she visited a center for children who had been freed from slavery. She went on to write the book Facing the Monster: How One Person Can Fight Child Slavery and now works as a consultant to the Salvation Army's New Day to Stop Trafficking program. She received Rotary's Service Above Self Award in 2009-10.
"Someday, there is going to be such a huge difference because we realized there really is something you can do," she says. "And we did it."
This is another Rotary Action Group that does great work.
Cleaning up the rivers of the world
By the Water & Sanitation Rotarian Action Group (WASRAG) 
Today, 1.8 billion people use a source of drinking water contaminated with feces, putting them at risk of contracting cholera, dysentery, typhoid and polio. In 1993, the United Nations General Assembly officially designated 22 March as World Water Day. This annual day is coordinated by UN-Water in collaboration with governments and partners to tackle the water crisis.
The United Nations Sustainable Development Goals, launched in 2015, include a target to ensure everyone has access to safe water by 2030, making water a key issue in the fight to eradicate extreme poverty.
In celebration of World Water Day 2018, the Water & Sanitation Rotarian Action Group (WASRAG) is encouraging Rotary clubs throughout the world to consider adopting a river clean-up or similar project in or near their community. Since the time of year to best implement these types of projects varies from region to region, your project can take place at any time leading up to World Water Day, but we will celebrate and promote your projects as part of World Water Day activities.
Don't know where to start? Contact your local conservation authority (if there is one) and they can point you to areas in your community where the need is most critical and alert you to environmentally sensitive issues. Here are a few types of hands on projects your club can take on:
Cleaning up debris along a river or stream, and recycling qualified items
Planting trees and native plants along the water
Promoting safe and organic alternatives for lawn and garden fertilizers
Creating awareness about invasive water species
Partnering with local conservation and water protection NGOs on projects
Encouraging slow speeds of boats and other water toys
Planting a rain garden
Creating awareness about not dumping into storm drains
Promoting use of non-toxic tackle for fishing
We also encourage you to educate your community on river clean-up projects and promote the benefits through programs such as:
Hosting an essay contests on why rivers need to be kept clean
Educating others on social and digital media
Organizing club programs about the benefits of clean water
Hosting friendly club project competitions
Participating in community events to promote Rotary's involvement in World Water Day: Chamber of Commerce activities, local conservation events, etc.
Enter in our competition for a chance to win!
Submit a brief description of your project, including what you've done, the target audience and the expected impact.  Remember to tell us your district number and club name as well as your name, email address and phone number. Please send all entries to  info@wasrag.org.
DEADLINE: May 1st, 2018
AWARDS: Two outstanding projects (the most impactful and the most innovative) will be selected for a USD $500 award. Winners will be notified by May 31st, 2018.  The awards will be presented at WASRAG's Annual General Meeting on Saturday June 23rd, 2018 in Toronto, Canada.
We encourage you to promote your project during club meetings leading up to World Water Day and be sure to add them to Rotary Showcase. WASRAG will also promote select projects in our newsletter, website, and on social media. Take action and join our World Water Day Challenge!