Thank you to all Attending last week's Changeover Meeting 
I believe that it was a successful evening that we as a Club can build upon. Let us start with the planning this Tuesday, 18th July 2017 at 7.00pm
I cannot attend the meeting scheduled for Wednesday so we will try for Tuesday.
Please try to attend if you can.
Rotary President-elect Sam F. Owori dies
Rotary International President-elect Sam F. Owori died unexpectedly on 13 July due to complications from surgery. Sam was a member of the Rotary Club Kampala, Uganda, for 38 years.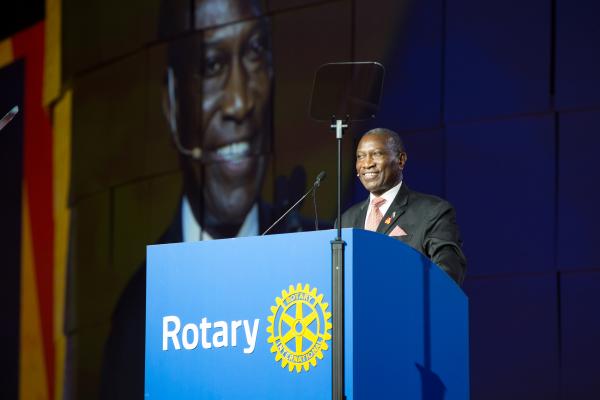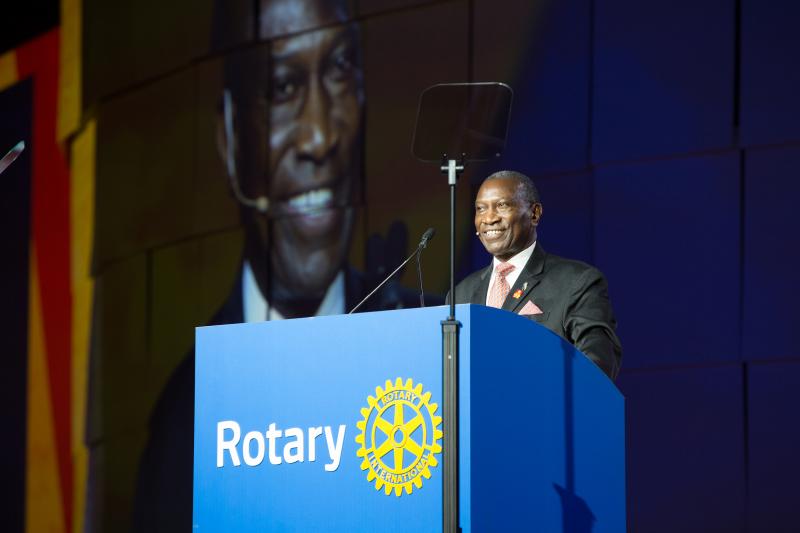 Sam's term as Rotary's 108th president would have begun on 1 July 2018.
"Please remember Sam as the outstanding, hard-working Rotarian he was," said Rotary International President Ian Riseley. "In this difficult time, I ask you to keep his wife, Norah, the Owori family and Sam's millions of friends around the world in your thoughts."
Under Sam's leadership, the number of clubs in Uganda swelled from nine to 89 over the course of 29 years. 
Sam saw in Rotary members "an incredible passion to make a difference," and wanted to "harness that enthusiasm and pride so that every project becomes the engine of peace and prosperity."
Sam was the chief executive officer of the Institute of Corporate Governance of Uganda, whose mission is to promote excellence in corporate governance principles and practice in the region by 2020. Previously, he was executive director of the African Development Bank and managing director of Uganda Commercial Bank Ltd., and director of Uganda Development Bank.  He has also served as corporation secretary of the Central Bank of Uganda.
He served as member and chair of several boards including FAULU (U) Ltd., (now Opportunity Bank), the Uganda Heart Institute, the Centre for African Family Studies, Mulago Hospital Complex, Mukono Theological College, and the Kampala City Council.
Sam also was the currently vice-chair of the Hospice Africa Uganda, and member of the board and chair of the Audit Committee of PACE (Programme for Accessible Health, Communication and Education) in Uganda.
"Sam was a special person in so many ways, and his unexpected death is a huge loss to Rotary, his community and the world," Riseley said. "In addition, we are establishing details on plans to celebrate his life as they become available." 
Rotary is establishing a memorial fund in Sam's honor and will provide further details soon.
3 tips for using social media to create a buzz
By Evan Burrell, Rotary Club of Turramurra, New South Wales, Australia
I'm sure your club puts a lot of effort into planning events like fundraising dinners, charity golf days, car shows, and changeovers ceremonies. You probably focus right down to the smallest detail. So why not put that much effort into promoting your event on social media?
Social media is a powerful tool for gaining exposure. But just like all the other necessary arrangements, getting good results takes a bit of preparation. Here are three tips for developing a social media strategy for your next event.
Create one unified hashtag for use across all social channels
By using an event-specific hashtag, you'll make it easy for people to find not only what you're sharing, but what other people are saying, too!
Recently, at the 2017 Rotary International Convention in Atlanta, Georgia, USA, the hashtag #Rotary17 allowed attendees to participate in an engaging conversation with fellow attendees and to see what everyone else was up to just by clicking the hashtag.
Share visual content
A lot of work goes into pulling off a fantastic event. Capture that effort with photos and share it, so people can see how you're pulling everything together. Posting photos and videos is a great way to generate some buzz and boost engagement.
Get everyone involved with it
Think about all the people who will be there as part of the event and pull them into the conversation. For example, if you're running a food and wine festival, include the stallholders and vendors in your posts and get them to post. If it's a district conference, engage the speakers and sponsors, and even event staff.
Tell attendees to tweet and post about the event using your event-specific hashtag. Every little bit helps when it comes to getting the exposure your event deserves.
The beauty of social media is that it is a conversation, so let's keep talking about Rotary!
Learn about Rotary International's social media presence