Hi All,
As I and some others cannot attend a social meeting on Wednesday I will schedule a social meeting for Tuesday 19th at 7.30pm EST. Please email me the email address of any non- member or guests you want to invite ASAP – johnroberson@bigpond.com
I will send the ZOOM meeting link tomorrow.
Below are a couple of articles that I found interesting:
Rotary, Heifer program helps farmers provide healthier food to people in their own communities
By Arnold R. Grahl Visuals by Miriam Doan
Joe Carr bends over to pluck a handful of smooth, dark-green leaves, using a pocketknife to prune weak spots before bundling them with a rubber band and dropping the bunch into an orange crate. 
Eight neat rows of vegetables line the ground under a tunnel of greenhouse plastic, supported by a series of steel hoops.
"I got a little bit of bok choy here. It's a favorite of a lot of the customers. Generally, I can get about $2 a bunch," Carr says. "These are totally organic, no chemicals whatsoever, totally healthy, leafy green, and all the vitamins that go with it."
Volunteers from Rotary and Heifer International built the hoop house, also known as a high tunnel, to let Carr extend his growing season, getting an early start on crops like bok choy and tomatoes. 
Carr is one of 24 farmers scattered across central and southern Arkansas who are engaged in small-scale sustainable agriculture to grow organic produce, filling an increasing demand for locally grown food.
Heifer has been using the small-scale agriculture model for decades to alleviate hunger and fight poverty around the world. The approach has the added benefits of being environmentally friendly and offering healthier food options.
That mission dovetails with Rotary's mission to grow local economies and improve health, so it's not surprising the two groups have teamed up on a number of occasions in the past 30 years to improve communities by helping families escape poverty.
The connection has strengthened because several Heifer employees are members of the Rotary Club of Little Rock, Arkansas, USA, the city where Heifer has its headquarters.
"Our values line up very well," says Ardyth Neill, a member of the Little Rock club and president of the Heifer Foundation. "With Rotary, it's Service Above Self and helping to serve others. Heifer has been working with farmers to be accountable, pass on their gifts, train other farmers, and work together in community. It's learning to share and care, basic things that work well together."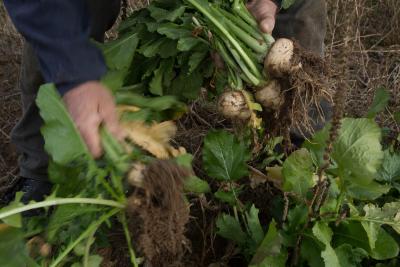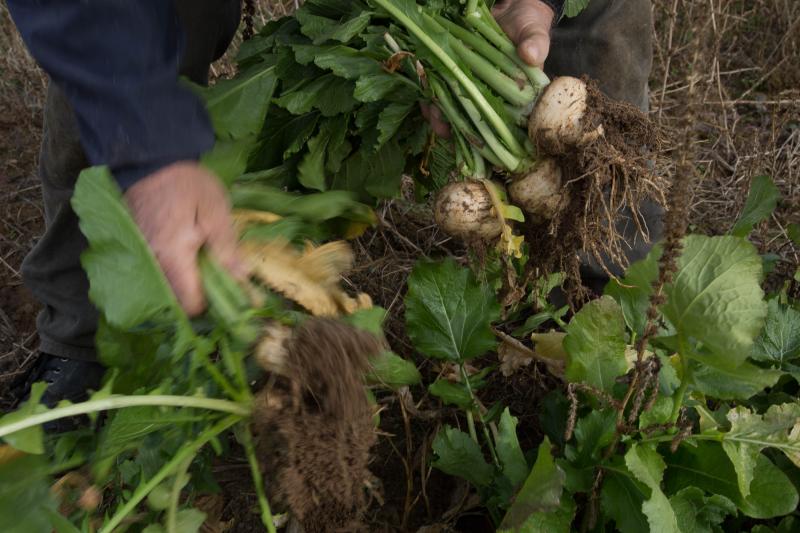 Sustainability is the latest trend
Sustainable agriculture, a hot trend globally, refers to a method of growing or raising food without harming the environment, while providing fair treatment for workers and supporting local communities.
In the United States and other developed nations, a lot of food production is controlled by large industrial operations, which produce cheaper food by focusing on a single crop and using specialized equipment to cut labor costs.
But advocates of sustainable agriculture say those operations can also damage the environment by using commercial fertilizers, heavy pesticides, and other chemicals. 
The corporatization of farming has also contributed to the failure of smaller family farms, increasing the poverty rates in places like rural Arkansas. 
In addition, people become more detached from their food. 
Nationwide distribution networks have resulted in food deserts in urban areas, particularly in the U.S., England, and Australia, where poor neighborhoods have little access to fresh produce and instead rely on less nutritious fast foods and packaged products.
Small-scale sustainable agriculture, on the other hand, tends to benefit communities by keeping things local. The money you spend on food stays in your community and helps your neighbor. Farmers maximize land use by planting multiple crops that replenish the soil and reduce the need for fertilizers and pesticides. If needed, organic fertilizers are used that improve a plant's root system. 
And many nutritionists say fruits and vegetables grown closer to consumers' homes keep more of their nutrients.
Consumers are increasingly aware of these health benefits, fueling the market for local produce.
"There's a phenomenon going on, really nationwide, about people becoming more and more concerned and thoughtful about where their food comes from," says Sharon Vogelpohl, a past president of the Little Rock Rotary club and a volunteer on the project. "I'm a mother of two. That's something that I take very, very seriously."
Jordan Beard, another Rotarian involved in the project, says: "I think people see that they can change their habit around how they eat, and it can make a big difference in their life and health. It's connected with the idea of a more active lifestyle."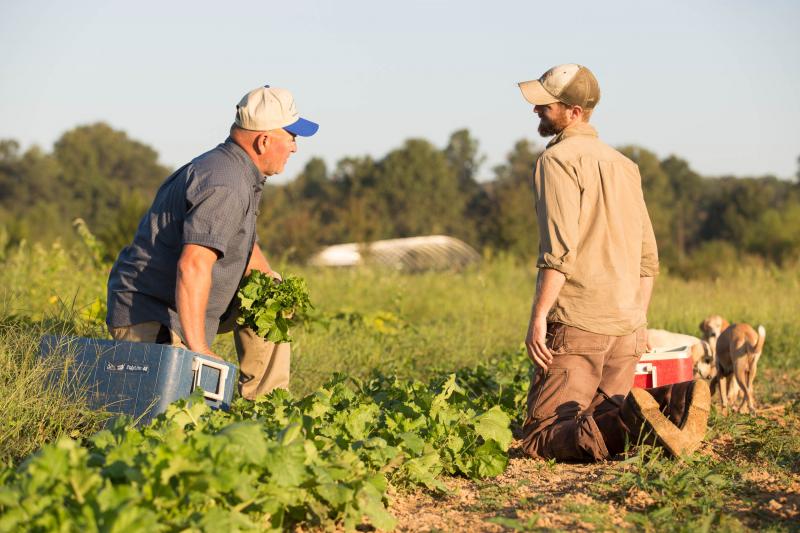 In Heifer's back yard
In Arkansas, Rotarians and Heifer USA teamed up after conducting a study that found considerable untapped demand for locally grown produce. According to Wes Ward, Arkansas' secretary of agriculture, the state spends $7 billion  a year on food, with about $6.3 billion of that coming from outside Arkansas, a state with the nation's fourth highest poverty rate.
"There's a significant opportunity in Arkansas, and small-scale producers can take advantage of it," says Ward. "They can start producing things on much smaller acreage and sell their products at premium prices."
Carr and the other Arkansas farmers are part of a Community Supported Agriculture (CSA) network — a food subscription service in which consumers buy produce in advance at a fixed price, guaranteeing farmers a market for their crop regardless of how weather or other factors may affect their output.
Heifer provides the farmers with training in sustainable practices and teaches its philosophy of accountability, sharing, passing on training, and self-reliance. 
Rotary members offer the farmers advice in marketing, finance, and business planning, as well as helping market CSA shares. 
The first season in 2014, the CSA had 150 shareholders, including 10 shares set aside for social service agencies and food banks, partly reaching people in food deserts. The number of shareholders has since grown to 450.
"What I like about my CSA basket is that it allows me to share," says Beard. "I take it to my office because there's always more than one person can go through. It's a way to spread the word about what we are trying to do."
The plan called for creating a financially independent cooperative by 2018. The New South Produce Cooperative reached that goal a full year ahead of schedule, with a manager and four year-round employees overseeing the collection and distribution of shares, while seeking new markets for the farmers' produce.
One of those new markets is selling mixed greens, microgreens, tomatoes, and peppers in wholesale amounts to grocers with high demand for them, said Ben Wihebrink, operations director for Heifer USA and a Little Rock Rotarian. 
Last year, initial wholesale efforts brought in $60,000.
8

4

th 

where Arkansas ranks in the nation for poverty

8

6

th 

where Arkansas ranks in the nation for obesity

$

8

7 

billion 

what Arkansas spends a year on food
$

8

6

.

8

3 

billon 

what Arkansas spends to import food
The partnership is also trying to get more of the farmers under high tunnels, allowing them to approach year-round production. High tunnels seal in heat from the sun and can reach 80 degrees Fahrenheit (about 26 degrees Celsius) even when the outside temperature is at the freezing mark. About a third of the farmers have tunnels, many through government subsidies.
Volunteers from Rotary and Heifer spent a few weekends building the tunnel for Carr, who has been farming since he left his job at Whirlpool in 1987. He started a farmers market in 2003 that has grown to more than 60 vendors. The co-op and high tunnel have allowed him to increase his income.
"The beauty of the high tunnel is it gives you the quality you need for public demand," he says. "Choy, kale, broccoli, carrots, and lettuce will all go through the winter. With the proper crop management, you can harvest all winter long."
Farming around the world
The tools of small-scale sustainable agriculture look different around the world, but the principles are the same. Noel Mace, Heifer International's program manager for Africa, explains that cooperatives play a crucial role in bringing together groups of farmers — many with both livestock and crops — and connecting them to markets.
"We are now developing more of a market-driven approach," says Mace. "Historically, Heifer has spent a lot of time on how to bring poor farmers to a subsistence level where they can feed their families. But our mission is to end hunger and poverty, not to lessen it. Poverty is a big challenge without connecting to markets."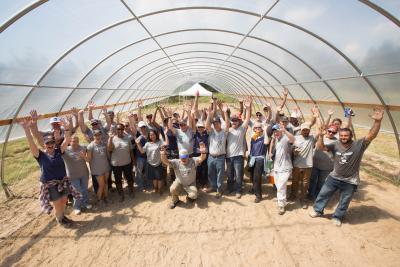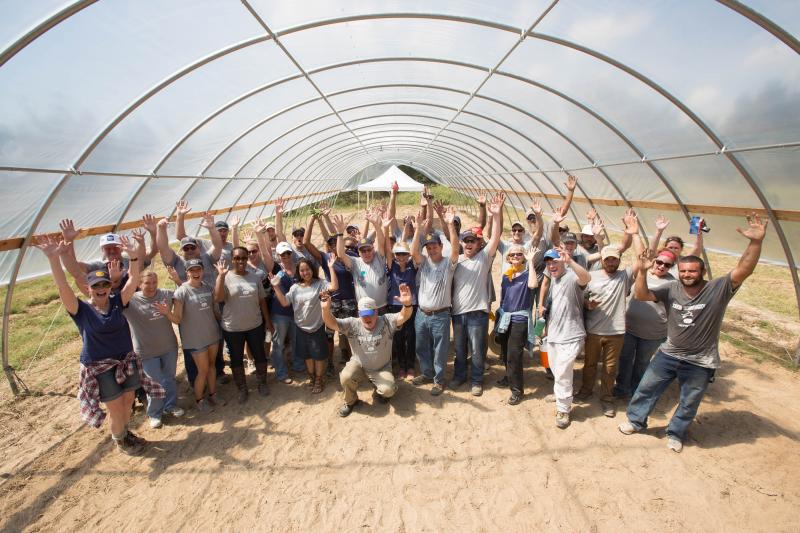 "So the question," he continues, "is not just how do we make sure you are not hungry, but how do we move you beyond a family-level production to participating with others in a market" that creates income and increases livelihood?
Heifer's model also strives to increase women's decision making and encourage groups to form common goals, because when a community faces poverty, everyone's part in fighting it is crucial.
Africa has a strong dairy program, so much of Heifer's work there flows out of milk. Tight groups of 15 to 20 farmers join with other groups in cooperatives that then have enough scale to access chilling plants and, ultimately, processing plants. The farmers then look to diversify further by using their milk co-op to sell avocados, lettuce, tomatoes, and other produce.
"If I am a consumer, I now can go to the co-op and buy milk, but also buy fresh fruits and greens, and I know it will have the same level of quality," says Mace. "It's really about marketing a brand, something I can rely on and know they will have when I go there."
Mace believes the sustainable farming movement is driven internationally by a growing middle class that wants access to healthy food and can now pay for it.
"They don't want the broiler chickens anymore with the huge breasts and giant legs. They want local poultry and are willing to pay two or three times more for it," says Mace. "It creates a great opportunity for individuals to come together and produce poultry, vegetables, or fruits using sustainable methods and in a way this market wants."
Spreading success
Back in Arkansas, Wihebrink says the larger vision is to encourage others to copy their model. "There is an infinite demand across the (American) South specifically for local foods and organic foods," says Wihebrink. "And as long as there is consumer interest, there is opportunity to help farmers in many places struggling to make a living."
Carr says the program has given him a new outlook. 
"Lots of doors have opened up for me along the way, and the biggest was when Heifer stepped in and offered this program and Rotary helped with the tunnel," he says. "I just didn't have enough time or money to get (the land) back into production the way things were. By getting this help, that's got me back in the driver's seat."
Rotary connects food banks and farmers
A program created by Rotarians in Seattle, Washington, USA, is fighting hunger and poverty in Arkansas thanks to connections formed through Rotary.
Rotary First Harvest has been funneling donations of imperfect or "ugly" produce to food banks in Washington via donated shipping since the 1980s. The program also organizes volunteers for gleaning, the ancient practice of going through fields after harvest to pick up remaining crops for the poor.
Leaders of the Seattle program visited Little Rock last fall to talk with Rotarians who have been supporting a project that helps small-scale sustainable farmers in Arkansas. The two clubs discussed ways to bring farmers and food banks together to fight poverty and build better food delivery systems.
Recently, Rotary First Harvest has taken its hunger fight to the national level with its Harvest Against Hunger initiative. The effort places volunteers from AmeriCorps VISTA with partner food banks to create new programs for recovering produce, recruiting volunteers, and gleaning, with the goal of increasing the quality and quantity of healthy foods available to those in poverty.
"We refer to (the initiative) as an incubator for ideas," says David Bobanick, executive director of Rotary First Harvest. "We are not saying, 'Here is our model — make this work in your community.' Instead, our approach is, 'Here is this VISTA resource — make something that works in your community.'" 
Harvest Against Hunger wins award
Rotary's Harvest Against Hunger program has received a special award for national service partnership.
The partnership between Rotary, the Corporation for National and Community Service and Seattle hunger relief organizations has strengthened the food bank farm infrastructure and its capacity to grow healthier communities, AmeriCorps said in announcing the award Wednesday at its annual conference.
After the meeting with Little Rock Rotarians, Harvest Against Hunger placed a VISTA member with the Arkansas Hunger Relief Alliance to work with local farmers, including those in the Little Rock project.
One effort that has been working in Washington is a Farm to Food Pantry program, which awards small grants for scattered hunger-relief groups to form two-way relationships between small-scale or remote farmers and food banks.
"We saw increases not only in the variety of produce coming into food banks, but that those farmers selling produce were more likely to donate additional produce," says Bobanick. "It's one thing that could work in Arkansas. In any event, we will leverage off the pre-existing connections with the farmers in the Little Rock project."
Rotary First Harvest has distributed 203 million pounds of produce to food banks since 1982